Исполнитель: U.D.O. (Udo Dirkschneider)
Страна:
Germany
Альбом:
Discography / Дискография [Japanese Edition]
1987 Animal House [BMG R32P-1143]
1989 Mean Machine [BMG R32P-1185]
1990 Faceless World [BMG BVCP-3]
1991 Timebomb [BMG BVCP-122]
1997 Solid [Victor VICP-60022]
1999 Holy [Nuclear Blast NB 435-2, Germany]
2002 Man And Machine [SPV CD085-57472 Germany]
2003 Nailed To Metal ...The Missing Tracks [King Record KICP-975]
2004 Thunderball [King Record KICP-991]
2005 Mission No. X [King Record KICP-1104]
2007 Mastercutor [AFM XQAN-1050]
2009 Dominator [AFM XQAN-1066]
2011 Rev-Raptor [AFM XQAN-1080]
2013 Steelhammer [Avalon MICP-11097]
Жанр:
Heavy Metal
Год:
1979-2013
U.D.O.— сольный проект бывшего вокалиста Accept Udo Dirkschneider.
1987 Animal House [BMG R32P-1143]
01. Animal House - 4:21
02. Go Back To Hell - 4:33
03. They Want War - 4:12
04. Black Widow - 4:33
05. In The Darkness - 4:05
06. Lay Down The Law - 3:48
07. We Want It Loud - 4:07
08. Hot Tonight - 4:45
09. Warrior - 4:23
10. Coming Home - 3:42
11. Run For Cover - 4:50
1989 Mean Machine [BMG R32P-1185]
01. Don't Look Back - 3:12
02. Break The Rules - 4:00
03. We're History - 3:30
04. Painted Love - 4:58
05. Mean Machine - 3:53
06. Dirty Boys - 3:47
07. Streets On Fire - 3:50
08. Lost Passion - 4:11
09. Sweet Little Child - 4:50
10. Catch My Fall - 3:56
11. Still In Love With You - 0:49
1990 Faceless World [BMG BVCP-3]
01. Heart Of Gold - 5:00
02. Blitz Of Lightning - 4:23
03. System Of Life - 4:11
04. Faceless World - 6:31
05. Stranger - 5:15
06. Restricted Area - 3:09
07. Living On A Frontline - 4:19
08. Trip To Nowhere - 4:43
09. Born To Run - 3:25
10. Can't Get Enough - 3:23
11. Unspoken Words - 5:13
12. Future Land - 5:12
1991 Timebomb [BMG BVCP-122]
01. The Gutter (Instrumental) - 1:04
02. Metal Eater - 3:42
03. Thunderforce - 3:40
04. Overloaded (Instrumental) - 1:03
05. Burning Heat - 3:15
06. Back In Pain - 3:46
07. Timebomb - 3:58
08. Powersquad - 4:13
09. Kick In The Face - 3:47
10. Soldiers Of Darkness - 4:12
11. Metal Manic Master Mind - 5:40
1997 Solid [Victor VICP-60022]
01. Independence Day - 6:03
02. Two Faced Women - 3:38
03. Desperate Balls - 3:55
04. The Punisher - 4:47
05. Devil's Dice - 4:33
06. Bad Luck - 4:57
07. Preachers Of The Night - 4:45
08. Hate Stinger - 5:00
09. Braindead Hero - 5:13
10. Pray For The Hunted - 4:02
11. The Healer - 6:10
1998 No Limits [Victor VICP-60313]
01. The Gate - 0:52
02. Freelance Man - 4:25
03. Way Of Life - 4:50
04. No Limits - 4:00
05. With A Vengeance - 5:27
06. One Step To Fate - 5:11
07. Backstreet Loner - 3:31
08. Raise The Crown - 4:07
09. Manhunt - 4:17
10. Rated X - 3:59
11. Lovemachine - 5:26
12. I'm A Rebel - 2:22
13. Azrael - 5:34
14. The Key (Bonus Track) - 4:07
1999 Holy [Nuclear Blast NB 435-2, Germany]
01. Holy - 4:57
02. Raiders Of Beyond - 4:12
03. Shout It Out - 4:56
04. Recall The Sin - 4:36
05. Thunder In The Tower - 5:05
06. Back Off - 3:04
07. Friends Will Be Friends - 3:33
08. State Run Operation - 3:52
09. Danger - 3:23
10. Ride The Storm - 3:59
11. Cut Me Out - 4:00
2002 Man And Machine [SPV CD085-57472 Germany]
01. Man And Machine - 5:41
02. Private Eye - 3:57
03. Animal Instinct - 4:13
04. The Dawn Of The Gods - 4:54
05. Dancing With An Angel (feat. Doro Pesch) - 4:12
06. Silent Cry - 5:22
07. Network Nightmare - 4:05
08. Hard To Be Honest - 4:51
09. Like A Lion - 4:17
10. Black Heart - 4:33
11. Unknown Traveller - 6:52
2003 Nailed To Metal ...The Missing Tracks [King Record KICP-975]
01. Holy - 5:18
02. Raiders Of Beyond - 4:11
03. Metal Heart - 5:39
04. X-T-C - 4:02
05. Drum Solo - 4:27
06. Fast As Shark - 4:05
07. Princess Of The Dawn - 8:01
08. Restless & Wild - 4:20
09. Thunder In The Tower - 4:52
10. Hard Attack - 6:23
11. Balls To The Wall - 8:47
12. Metal Gods (Bonus Track for Japan) - 4:42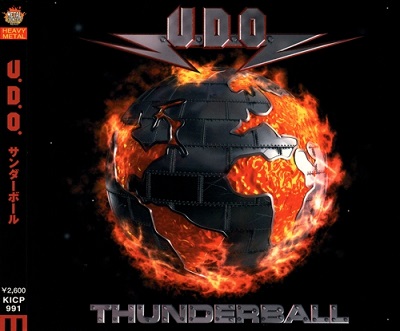 2004 Thunderball [King Record KICP-991]
01. Thunderball - 3:54
02. The Arbiter - 4:07
03. Pull The Trigger - 4:34
04. Fistful Of Anger - 3:11
05. The Land Of The Midnight Sun - 5:18
06. Hell Bites Back - 3:10
07. Trainride In Russia (Poezed Po Rossii) - 4:45
08. The Bullet And The Bomb - 3:58
09. The Magic Mirror - 4:56
10. Borderline - 4:12
11. Tough Luck II - 3:37
12. Blid Eyes - 4:20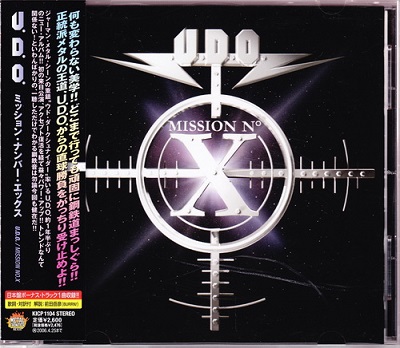 2005 Mission No. X [King Record KICP-1104]
01. The Embarkation - 1:31
02. Mission No. X - 4:08
03. 24/7 - 3:57
04. Mean Streets - 4:21
05. Primecrime On Primetime - 3:56
06. Eye Of The Eagle - 5:08
07. Shell Shock Fever - 3:53
08. Stone Hard - 4:21
09. Breaking Down The Borders - 3:20
10. Cry Soldier Cry - 5:16
11. Rebellion [Bonus]- 4:40
12. Way Of Life - 3:39
13. Mad For Crazy - 3:48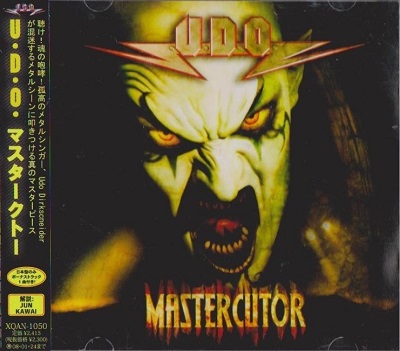 2007 Mastercutor [AFM XQAN-1050]
(No covers)
01. Mastercutor 5:17
02. The Wrong Side Of Midnight 4:54
03. The Instigator 3:48
04. One Lone Voice 4:21
05. We Do - For You 4:04
06. Walker Of The Dark 5:01
07. Master Of Disaster 4:15
08. Tears Of A Clown 3:53
09. Vendetta 4:12
10. The Devil Walks Alone 3:21
11. Man A King Ruler [Bonus]3:34
12. Dead Man's Eyes 4:27
13. Crash Bang Crash 3:06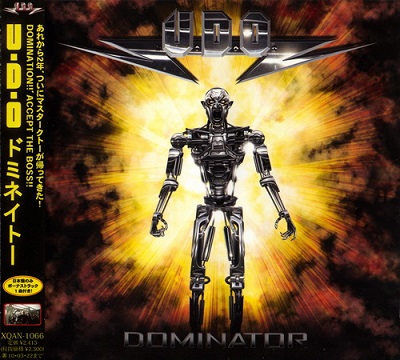 2009 Dominator [AFM XQAN-1066]
01. The Bogeyman - 4:04
02. Dominator - 4:45
03. Black and White - 4:09
04. Infected - 3:35
05. Heavy Metal Heaven - 4:21
06. Doom Ride - 5:21
07. Stillness of Time - 6:31
08. Devil's Rendezvous - 3:35
09. Bleeding Heart - 2:58
10. Speed Demon - 4:04
11. Whispers in the Dark - 4:26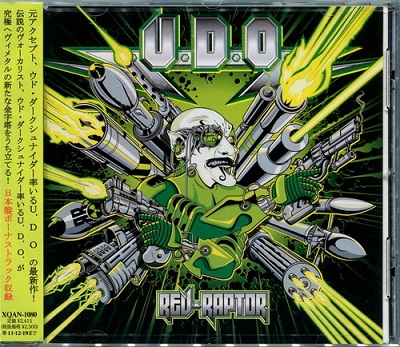 2011 Rev-Raptor [AFM XQAN-1080]
01. Rev-Raptor - 3:42
02. Leatherhead - 4:09
03. Renegade - 3:29
04. I Give As Good As I Get - 4:19
05. Dr. Death - 3:46
06. Rock'n'roll Soldiers - 4:16
07. Terrorvision - 3:59
08. Underworld - 4:18
09. Pain Man - 3:53
10. Fairy Tales Of Victory - 4:00
11. Motor-Borg - 3:24
12. True Born Winners - 3:26
13. Stormbreaker - 3:26
14. Bodyworld - 4:44
15. Days Of Hope And Glory - 4:28
2013 Steelhammer [Avalon MICP-11097]
01. Steelhammer - 3:24
02. A Cry Of A Nation - 5:41
03. Metal Machine - 4:46
04. Basta Ya - 4:33
05. Heavy Rain - 2:25
06. Devil's Bite - 5:06
07. Death Ride - 4:09
08. King Of Mean - 4:07
09. Timekeeper - 4:26
10. Never Cross My Way - 4:23
11. Take My Medicine - 5:08
12. Stay True - 4:05
13. When Love Becomes A Lie - 4:13
14. Book Of Faith - 5:13
15. Dust And Rust (bonus track) - 4:31